Global Virtual Learning Experience
IoT in Action Virtual Learning
IoT in Action is now digital as we launch a collection of online training resources to help you better navigate shifting business priorities and IoT needs. Learn with us as we explore the following topics that can help you move forward in your IoT journey and innovate with confidence.
Discover how to leverage IoT solutions to enable connectivity in an ever-evolving world
Learn how you can place your IoT solutions on a foundation of security, freeing up resources for continued innovation and business transformation
Explore what it means to digitally transform your business and how IoT can play a critical role
Listen to how artificial intelligence (AI) and machine learning (ML) help handle data volume and edge analytics
See how you can improve business processes with IoT, including loss prevention, remote monitoring, and predictive maintenance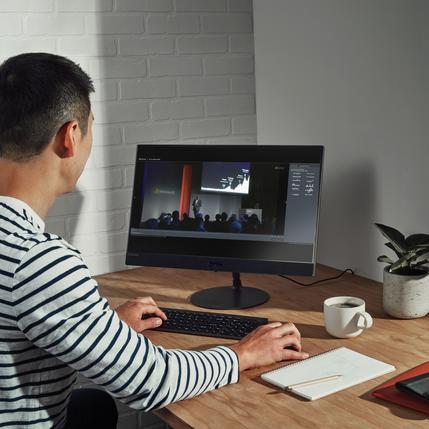 Find the right partner for your business needs
As you look to pivot existing initiatives or receive additional support, finding the right partner is a key piece of the puzzle. Whether you need support digitizing operations, staying connected with customers, or developing solutions to better serve the needs of society, Microsoft and our partners can help you get to the next stage of your IoT journey.
Once you sign up, you receive exclusive access to the Partner Finder, an online portal featuring partners ready to help you build, customize, finish, or deploy a solution. Browse the IoT solutions and services they have available, and once you've found the right fit for your needs, a Microsoft team member will help introduce you.
Available content
Executive Keynote
As business models and priorities shift, how do you continue to think about IoT and meet business needs? Today's IoT journey requires a continued focus on innovation, on business models, and on partnerships. This session will share how Microsoft is enabling companies to design, build, and scale repeatable IoT solutions from edge to cloud.
Business Transformation In Action
Paving the way forward for many companies' business transformation journey is the increasing need to digitize operations and stay connected. Explore the four stages of transformation that businesses undergo and how you can develop sustainable, scalable business models across a variety of partnership and commercial scenarios.
Architecting the Intelligent Edge to Create Scalable Repeatable Solutions
This online Architectural Design Session (ADS) deep dives into the process of developing an IoT solution and shares how you can use this methodology with your customers. In this session, Microsoft partner architects share how they have used this process to successfully develop repeatable IoT solutions on Azure.
Unlocking IoT's Potential
IoT has tremendous potential to help you maximize resources, build solutions at scale, or simply look to a future of continued innovation. In this session we take a closer look at what is at the heart of these outcomes: the Microsoft IoT portfolio. Listen as we share how businesses around the world are creating enterprise-grade IoT solutions and modernizing business operations.
Developing an IoT Security Practice for Durable Innovation
As evolving business needs and new ways of working contribute to a rise in connectivity, it has never been more essential for organizations to secure mission-critical devices. In this session, we will share how you can define a security model as well as the required capabilities for mitigating security risks.
Evolving IoT with AI, Mixed Reality and Automation
As companies increasingly focus on how they can connect, monitor, service, and predict maintenance needs, there also comes an increase in data volume and edge analytics. Watch as we explore how customers are starting to use AI to add incremental intelligence to their operations and on devices, which in turn helps amplify employee productivity.
Activating Microsoft Resources and Programs to Accelerate Time to Market and Co-sell
As you look to turn strategic initiatives into actionable, long-term plans, finding the right partner to help you generate value and achieve more with the right technology is critical. Microsoft has developed a toolkit that can help accelerate your IoT vision and fast-track your next project. Join us as we walk through best practices for activating these programs and resources.